Reading
At Galliard we have the highest expectations of all our staff and children and we want our pupils to leave Galliard as confident, successful and ready to embark on the next stage of their education. Their journey begins from the moment they join Galliard.
Teaching children the skill of reading is the single most important task we will as teachers undertake for all our children at Galliard. Reading is a gateway skill that will help open up the whole curriculum for them and enable them to see themselves as successful learners. At Galliard we aspire to support all the children to become language rich and believe that this can be best achieved through reading widely and reading ambitiously.
From the moment they enter our school we aim to provide children with a literacy-rich environment, high quality texts and inspiring learning opportunities, which promote a life-long enjoyment of reading. We intend for all our children to read accurately, fluently develop secure comprehension skills. Children will develop stamina and read with expression and confidence. Our structured phonics programme (RWI) supports children in applying a knowledge of phonics in order to decode unfamiliar words. Furthermore, children will be able to develop a secure knowledge of vocabulary and grammar and be able to read a range of different types of texts. Reading is often taught across the curriculum as we believe reading will enable children to access the wider curriculum. In order to ensure teaching of reading is good or outstanding, we deliver a rigorous CPD programme to ensure consistency across the school.

As well as teaching the children how to read and comprehend we place a huge emphasis on promoting a love for reading across the school. Our teachers are our Reading Ambassadors and they are determined in their belief that there is a book out there for everyone to enjoy. They select books to compliment the wider curriculum as well as texts they know will draw in and engage their class.
We have invested in our classroom book corners, we insist on daily story time across the school, we actively encourage teachers to seek out webinars led by authors and illustrators to inspire our children and we have raised the profile of reading through our very successful Autumn Reading Challenge and our Spring Reading Challenge for Reception.
As a school we are determined that every child will leave a good reader and have an enduring love for learning that will support them long into the future. As well as providing high-quality reading experiences in school, we want to support children with their reading beyond the classroom. We have hosted a very successful book gifting event designed to help children start to build their own libraries at home and we plan to host more events to compliment the regular book fairs that already take place in school.
Our commitment to work with parents on finding ways to get children hooked on books and readers for life is unwavering. We welcomed parents in during the Autumn term to reading cafes and RWI workshops and our younger children are thrilled to bring their parents in to enjoy rhyme time and story time.

Early Reading and Phonics
In Nursery we use Phase 1 Letters and Sounds to introduce phonics to the children. It develops children's speaking and listening skills and lays the foundations for the phonic work which will follow when the children enter Reception. The emphasis is for children to be able to hear the sounds around them so they are ready to begin developing oral blending and segmenting skills.
At Galliard, the children are taught to read effectively and quickly using the Read Write Inc. Phonics programme (RWI) which includes teaching synthetic phonics, sight vocabulary, decoding and encoding words as well as spelling and accurate letter formation. The Read Write Inc phonics programme begins in Reception and continues into Year 1. It is designed to teach children to read accurately and fluently with good comprehension. The children learn to read 40+ sounds and learn to blend these into words. Children who need further support with phonics are able to access this in year 2 and into year 3.
All children are assessed every six weeks and grouped according to ability. Each group is led by a trained reading leader who differentiates each lesson to meet the children's needs. Children who need extra support to meet national expectations are quickly targeted and given additional support. Once the children are at the storybook stage they will take home two books at their instructional level and additional book to share with a grown up at home. Our aim is to get all children blending confidently, as quickly as possible, to encourage their love of reading from an early age.
At the end of Year 1 all children take part in an individual Phonics Screening Check. This takes place in June and is designed to inform teachers and parents of children's progress in phonics. This also enables us to put the right support is place for those children who may need additional support, to ensure they do not fall behind in this vital early reading skill.

Reading beyond Phonics
Early Years Foundation Stage
We are keen for the children to develop a love of reading from an early age and the Early Years Practitioners will spent time in reading areas/book corners, reading to children and sharing books with the children every day. This encourages the children to enjoy books and reading, and to use the areas independently. Books are available across the learning environment, linked to the relevant area of learning e.g. science books in the science area. Children are encouraged to retell familiar stories orally and to make their own.
Our Terrific Twos – Caterpillar Class
Every child, from Caterpillar Class will bring home a book to share with their parent every week. Adults regularly share books with the children, individually and in small groups. Picture books and books with flaps are effective. Story sacks, puppets, different voices are used to engage children. Parents of focus children are invited in to weekly rhyme time sessions.

Nursery
Every child, from Caterpillar Class will bring home a book to share with their parent every week. The children are read to daily and core books are introduced. These are books with repetitive texts and repeated refrains- books which lend themselves to choral reading so that children can join in. Techniques to engage children include using actions, different voices, props, puppets and acting out the stories. Props, puppets and small world toys are available in the classroom for children to use to retell the story independently. The book is also available in the reading area for children to revisit and read independently.
To add to their love of stories we use an approach called 'Helicopter Stories' which is based on the work of kindergarten teacher and early childhood education researcher Vivian Gussin Paley. Practitioners model story telling in different situations and encourage the children to make up their own stories. The adult scribes the child's story word-for-word on a piece of paper. The child decides what character he/she wants to play and performs it on a marked-out stage in front of the class. Other children join in as the other characters and the rest of the group sit and observe as story listeners. The child is in control with the freedom to create in any way they want and bring their individual story to life. In Helicopter Stories, children's words are respected and the approach lends itself to collaborative play and sharing ideas. As a group activity, no one feels judged and their ideas and feelings are accepted. As time goes on, the children's stories become more descriptive and complex, drawing upon and adapting the ideas of other pupils.
Click here for our Core book overview for Early Years
Reception
As well as daily story time, individual weekly reading is introduced. This is further supplemented by a core book. This is a (big book if possible) book that lends itself to choral reading- simple, repetitive text; repeated refrain; and where possible the children can see the text. This is read to the children at carpet time at least three times over the week. Sessions are as follows:
Read through for enjoyment with expression
Children anticipate, jump in etc. Adult is modelling the reading process
Children join in with story at pace- whole book
The aim is that by the final reading the children are able to read/chant along at the pace of the teacher. Actions and different voices may be used. The book is available in the reading area for the children to revisit/read independently.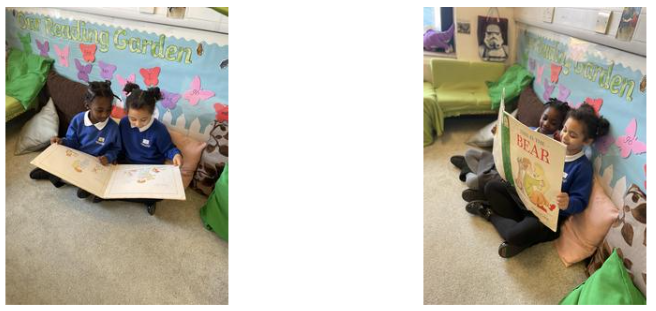 The Power of Reading
At Galliard our staff are being trained in the CLPE programme, The Power of Reading. Each book is used over two or three weeks, building up as a story as it is slowly revealed. Experiences to support the story are planned using the 'Power of Reading' teaching sequence as a starting point, these include activities to stimulate talk and role play. Depending on whether the focus book goes over 2 or 3 weeks there will be a minimum of 8 carpet sessions planned around each book, which leads to a focussed writing activity. A minimum of 3 carpet sessions are planned around each book, which leads to two focussed writing activities. Many techniques to engage children include using actions, different voices, props, puppets and acting out the stories. Props, puppets and small world toys are available in the classroom for children to use to retell the story independently.
Purpose: develop a love of stories, excitement, enthusiasm, comprehension, story structure, vocabulary and stimulate writing.
How we teach reading in KS1
Similar to our Early-years, books are chosen in Year 1 to encourage the children to develop their vocabulary and fluency. Fluency alongside decoding and comprehension, is one of the many pillars of reading instruction. Fluency refers to the rate, expression and smoothness with which a pupil can read. Fluency is important because it provides the bridge between word recognition and comprehension. When fluent readers read silently, they recognise words automatically. They group words quickly to help them gain meaning from what they have read. Fluent readers read aloud effortlessly and with expression. The reading sounds natural, as if they were speaking. Readers who have not yet developed fluency read slowly, word by word. Their oral reading is choppy.
In year 1 children are exposed to a rich diet of story and have the opportunity to revisit texts big books where possible) to improve their expression and fluency. These stories are also used as a stimulus for 'have ago' writing.
In year 2 children have their own copy of a text which may be fiction, non-fiction or poetry and ideally linked to a quality core book. The children are taught how to track the text and to read with pace and accuracy. Vocabulary is explored and the children are encouraged to become actively involved in the sessions.
Midway through the week the children are taught how to build upon their comprehension skills. Using the text, they have become familiar with they are introduced to different styles of questions and how best to approach and answer them. Children are encouraged to become more independent and demonstrate their skills. Teachers are always on the look out for any misconceptions and are ready to deal with these in a timely manner.
How we teach reading in KS2
Destination Reader
In Years 3 to 6 the children take part in daily extended reading lessons, four times a week, based on a reading approach called Destination Reader. The main focus of the approach is teaching the key reading strategies which support comprehension and the learning behaviours which support dialogue, through shared quality texts. This approach to reading in KS2 continues to foster a lifelong love of reading by encouraging children to read as much and as often as possible. Children deepen their understanding of the texts they read through the systematic use of a series of strategies and language stems. The approach encompasses the key principles of effective reading provision and fully meets the requirements of the National Curriculum. It also builds a culture of reading for pleasure and purpose.
Accelerated Reader
In addition to Destination Reader children in Years 5 and 6 use the reading programme Accelerated Reader. This is used to increase reading accuracy in reading comprehension, promote reading for pleasure and extend reading mileage.
Accelerated Reader is a digital program designed to foster the habit of independent reading in school and at home. The software allows teachers to assess current reading levels and create a personalised reading plan to support each child in the development of vital reading skills. The software suggests books that match a child's reading age and their reading interest. Children take computerised quizzes on the books they have read and earn AR points related to difficulty.
The average amount of reading recommended by Accelerated Reader is 25 mins per day. Teachers will set aside time each day for children to read in school, we would be grateful if you could ensure your child reads for a minimum of 15 mins each evening at home.
Reading Interventions
At Galliard we have several reading intervention programmes in place to ensure no child is left behind as a reader.
TA 1:1 reading intervention
This is led by a teaching assistant and is aimed at children who would benefit from daily one-to one reading with an adult in order to build decoding, accuracy, pace and expression. Up to 3 children are selected from every class and they read daily with the TA.
Group guided reading
This is led by the class teacher or HLTA with a group of 6 children. The aim of this intervention is to improve vocabulary and comprehension alongside fluency.
How home reading works at Galliard
Reading at home with your child is a great opportunity for them to practise the skills taught in school, as well as, encourage them to become lifelong readers.
In Caterpillars, Nursery, Reception and KS1, the children choose a book each week to take home and enjoy with a grown up. From Reception children start to also take home books at their instructional level of reading. These books are generally RWI books familiar to them and a book bag book.
Once children become free readers they will choose a book at their interest level, including non-fiction. In Years 3 and 4 the children will take home two books weekly, one at their reading level and one from their classroom collection. Children in Year 5 and 6 will always have a book from our Accelerated Reader collection to read at home.
We encourage parents to let us know how your child is getting on with reading at home and ask that you comment in your child's reading diary when you have listened to them read.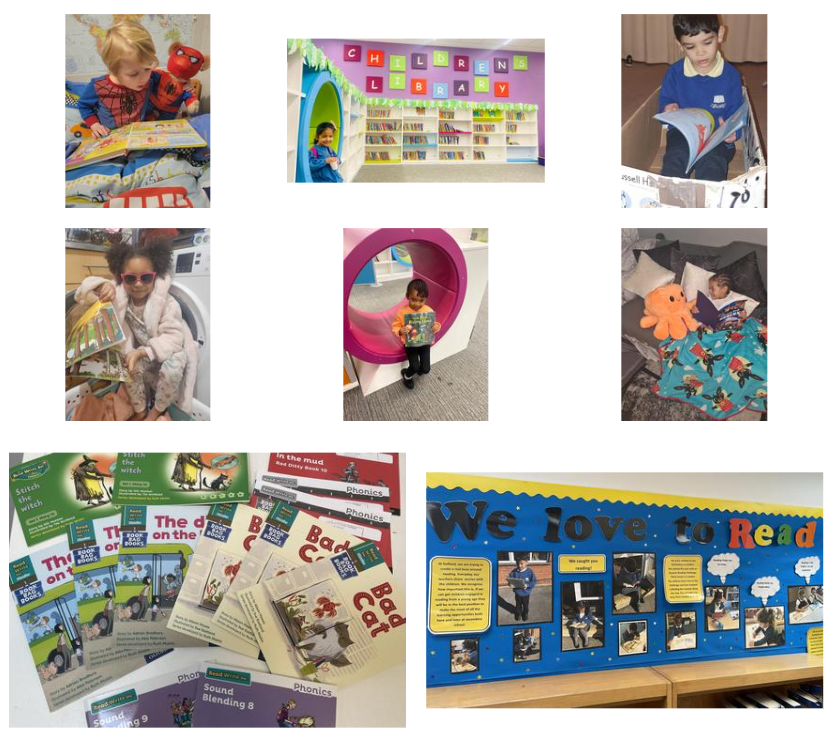 Developing reading for pleasure
Storytime
At Galliard we love books! We aim for all our children to develop a love of listening to stories, reading stories and becoming confident and imaginative story tellers.

Storytime takes place every day in every classroom. We select stories from a range of classic and contemporary literature selected to engage the children's minds and interests and extend language development.
Reading Challenges
This autumn we have, for the first time, launched our Autumn Reading Challenge where the children are encouraged to read thirty books in six weeks. In Spring we launched our Reception Reading Challenge.
Author webinars
We encourage all our teachers to book webinars with authors on a regular basis to inspire the next generation of writers and enthuse a love for books.
Library:
School libraries are so important to preserve. We are working with the National Literacy Trust to develop our library into an exciting and engaging space.
Click here for our Reading Spine
Click here for Reading for pleasure for strategic development plan